Zero Contact, Marvel's Hawkeye, Snowpiercer, GENZEROES...
Conducted by
Guillaume Jean Lefebvre
Actor: Aleks Paunovic I Photographer: Ben Cope I Stylist: Jules Woo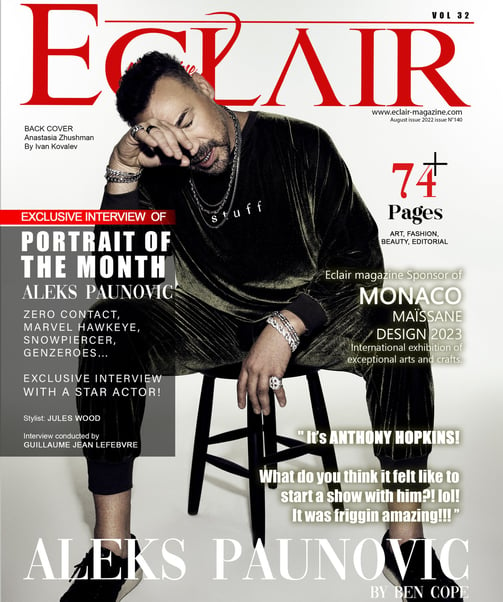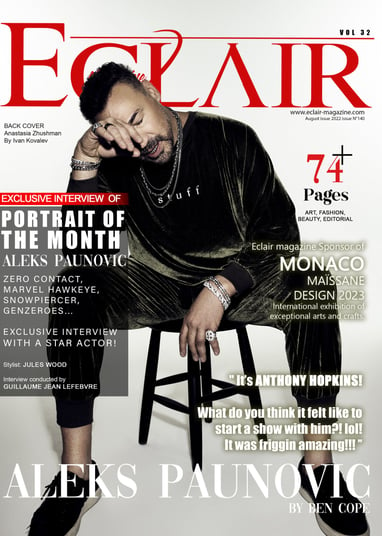 1. Your background is impressive. You have worked with talents such as Anthony Hopkins, Keanu Reeves, Ashton Kutcher, Michelle Pfeiffer and many others. You currently star in several productions including the Marvel series Hawkeye, Snowpiercer and GENZEROES. Is there a character you have preferred to play more?
Yeah, I've been pretty lucky to work with some amazing and talented people in my career and learn from them. Watching people I idolize work in a way that empowers me within my craft is something that I feel very grateful for. I think right now my favourite character to play, as I think I'm being a little biased, because I'm also an executive producer is Bishop Kane in GenZeroes. He's a strong warrior father to a strong warrior daughter. I usually play characters that are not so good which are fun, but sometimes I get the opportunity to play some very complex characters and I feel like Bishop Kane is one of them. He's a departure from most of the characters that I play. He's full of heart, love, humor, fight and character. Very excited to be a part of Genzeros.
2. Can you tell us about your character Ivan in the Marvel Hawkeye series? What appealed to you most in this role? How did the shooting go with the other actors and did you make friends on the set?
I loved playing Ivan in Hawkeye! Are you kidding me? I'm a part of the MCU now. How insane is that? Literally a dream when you're a kid to be a part of a franchise that you grew up with. The shooting of a series was great because I got to work with some amazing actors even though it was during the pandemic, which kept everyone on alert, we still managed to have an amazing time and got to see how a massive machine like Marvel works. It was inspiring. And yes, I made a lot of friends. My Tracksuit Mafia boys Carlos and Piotr are bros for life now.
Aleks Paunovic is an actor of exceptional caliber, whose name resonates throughout the industry. With an illustrious career, he has graced the screen alongside esteemed actors such as Anthony Hopkins, Keanu Reeves, Ashton Kutcher, Michelle Pfeiffer, and many more.
In a captivating exclusive interview featured in Eclair Magazine, explore the latest endeavors of this exceptionally talented actor.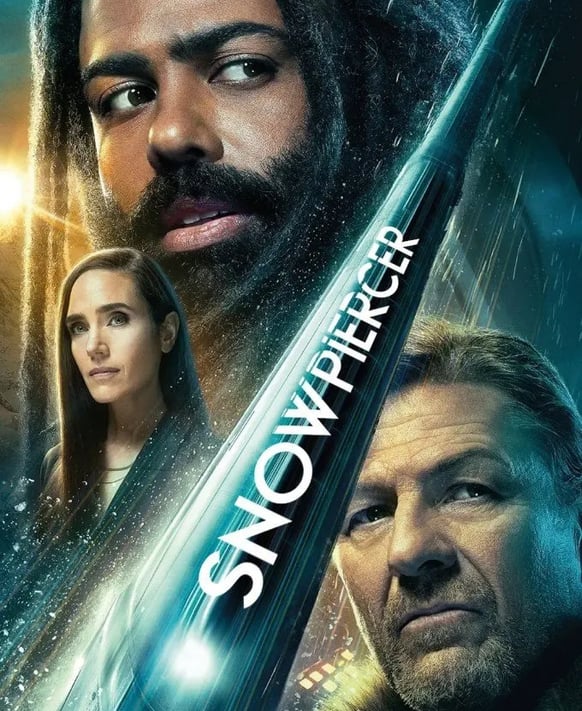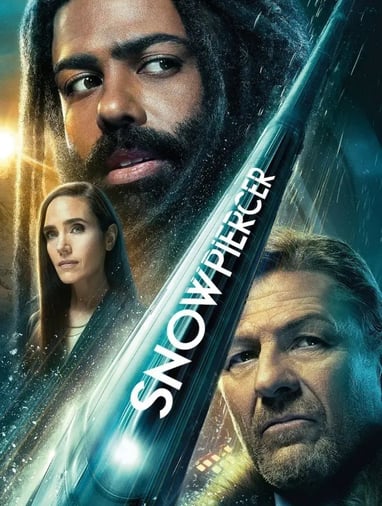 Portrait Of The Month ( Aug 2022)
Edited by @Eclairmagazine & @Picby_GJL
3- The GENZEROES series is now streaming via the GenZeroes website. Can you tell us more about the series ? What was the first feedback from viewers?
Yes! Please go to GenZeroes.com and check out our live action and comic book storytelling of this amazing universe. GenZeroes was created by Matt Venables and Jeremy Smith who I worked with for five years on Van Helsing. Amazing producers and writers and I needed to bring them aboard the project that I was working on. GenZeroes is a sci-fi show with 10 factions set 200 years in the future after an alien attack. What I love about the show are the different factions and the different ways of life that people look at. The fan interaction has also been mind blowing!! We had a launch party in New York City where we sold the place out, stars like Julia Stiles came. It was a great night, and then we had a booth at San Diego Comic Con where we had over 1000 people come through our booth and love the idea of GenZeroes and our #WhichFactionAreYou. It lets the fans pick who they wanna be with, what actor they like, what faction they would be a part of. It was so cool talking about why they picked a certain faction. It's an immersive exploration of characters and different ways of seeing life that just pulled me into the story and being a part of it as an executive producer is an honor.
4- For those who don't know, what is an NFT? What do you like about this kind of project?
The NFT aspect to me it's all about the artist and the community. It's the involvement in a piece of the project, trading cards, faction cards, character cards, and much more. They have some sort of ownership of the show and have some sort of say on how the show goes about along with the creators. It's something that I've never experienced before in any other show. I personally think the NFT game is going to revolutionize filmmaking for young artists and independent artists that have amazing stories to tell. From that the world will get to see some amazing content and great partnerships with streamers that benefit not only the program but also for the community and the fans.
5- This is your second NFT project, the first being Zero Contact opposite Anthony Hopkins… what was it like to star in a project with such a legendary actor ?
Are you kidding me? It's Anthony Hopkins! What do you think it felt like to start a show with him?! lol! It was friggin amazing!!! Rick Dugdale who directed and executive produced Zero Contact ,gifted me with the opportunity to play Trevor in the movie. I don't know what else to tell ya, I'm still blown away at working with such an iconic legendary actor.
6- Do you think this new means of promotion/distribution will revolutionize Hollywood? If yes, why?
Yes I really do. It's an opportunity for artists not only the actors in front of the camera but everyone behind the camera to the costume designer, to the set designer to actually selling NFTs. There may be someone out there that would love the first rendition of the Bishop Kane from GenZeroes costume, or because there are costume designers themselves. So not only could they buy the original sketch from the costume designer as an NFT, but they can also sell it if they feel like selling it. I love the idea of championing artists in front of and behind the camera. On top of giving our community much more than the industry has done before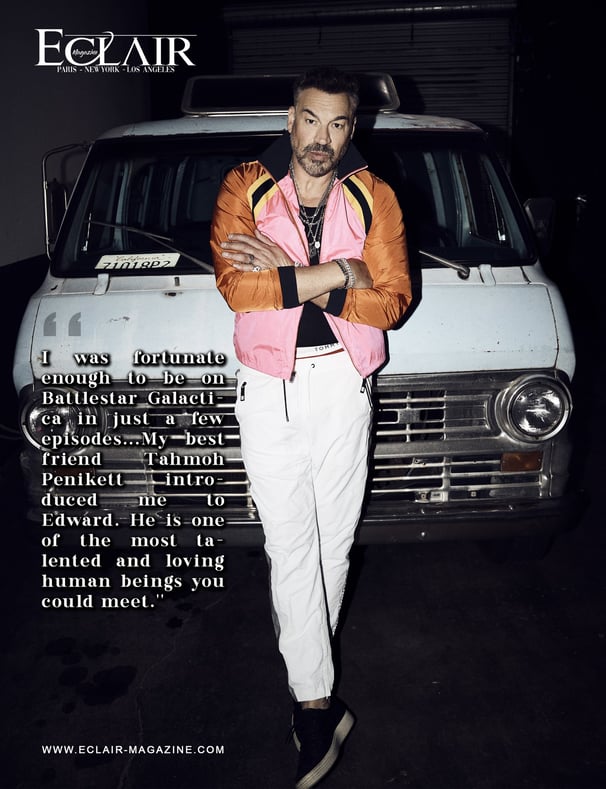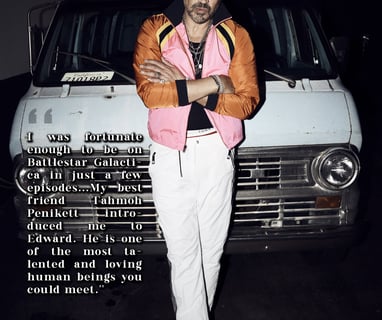 '' It's Anthony Hopkins!
What do you think it felt like to start a show with him?! lol! It was friggin amazing!!! ''


7- You play Breachman in the Snowpiercer series alongside Jennifer Connelly and Daveed Diggs. For those who haven't see it, what is the series about? Who is Breachman in the series? Where can we watch the series?
Well, Snowpiercer was actually a film first. A 2013 post-apocalyptic science fiction action film based on the French graphic novel Le Transperceneige by Jacques Lob, The film was directed by Bong Joon-ho which inspired the TV series starring Jennifer Conley and David Diggs. It follows the passengers of the Snowpiercer, a gigantic, perpetually moving train that circles the globe carrying the remnants of humanity seven years after the world becomes a frozen wasteland. It's such an interesting and cool concept of a train being the only means of survival in a frozen wasteland. My character Breachman Boscovic has one of the most dangerous jobs on the train, and it shows in his appearance; with frostbite scars and stumped ears. Breachman are the only ones that go outside of the train to fix things, but Boki is upbeat and jokes about the cold and the hazards of the job. It's so great to play. Oh!! Check this out. Here's some trivia for you: when I was asked to audition for the role I improvised in Serbian when the character's name was actually of Polish descent. So when I got the role, not only was I stoked but I had to break the news to them that I wasn't improving in Polish I was improvising in Serbian which is my native language. I asked the Showrunner at the time, Graham Mason, if we could change him to a Serbian to keep the improv that I was doing in the show, and he let me name my character Bojan "Boki" Boscovic. Bojan is actually my brother's name. I'm very grateful that Snowpiercer allowed me to use my brother's name as my character and a tip of the hat to my heritage. So Breachman Boki Boscovic is very close to my heart.
8- As mentioned above, you have an impressive background, at what age did you start acting? Which of the many actors and actresses you have starred with impressed you the most?
I actually started late in acting. I was in my mid-30s before I actually started to work a little bit. Before that I played in the heavy-metal band called Specula Black ( you can check us out on Spotify and all streaming sites). So yeah, acting came late to me but I'm very much someone that loves to learn and watch other people learn, and I would have to say my first experience with an amazing actor had to be Edward James Olmos. I was fortunate enough to be on Battlestar Galactica in just a few episodes, but my best friend Tahmoh Penikett introduced me to Edward. I was able to watch him work, and hearing his knowledge was something that empowered me to really want to be a part of this industry. He is one of the most talented and loving human beings you could meet.
9- You have starred in many science-fiction projects. Would you say this is your preferred genre ?
I really do love sci-fi! There's just something about telling human stories in a fantastical world that really pulls me in. Ever since I was a kid I just loved fantasy worlds but grounded storytelling. Very fortunate to be working in the genre
10- What kind of character would you like to play in the cinema one day that you haven't played yet? What would be your biggest challenge as an actor?
That's a great question. I've been very fortunate to play a lot of different types of characters but I think something like the first season of True Detective. Matthew McConaughey's troubled and broken soul trying to be a good person and solve a murder in the trials and tribulations that a human goes through. That to me would be an amazingly complex character to play.
11- Although your schedule is already very full, do you have other projects on the horizon? if so can you tell us more?
I'm about to start a couple other projects that I cannot talk about right now. I am chomping at the bit to tell the world. But I can't, and it's driving me crazy, lol! But when I do find out when I can share it you'll be the first to know. :)
10- What's next for GenZereos ? Will there be a season 2 ?
That is our hope, yes! Right this second while I'm doing this interview I'm sitting in the Genzeroes office working on more scripts and more storytelling, and I'm having such an amazing time with so many creative people. So keep your eye out for more Genzeroes
12- We end our interview with our favorite question. If you had one piece of advice to give to the child that you were, what would it be?
Ooooo, that's another good one. You're on a roll. Wow. Great question. I would have to say: Be free, love yourself, no judgment, be open to learning, no ego. and most of all, be kind. Lead with love. Thanks for a killer interview!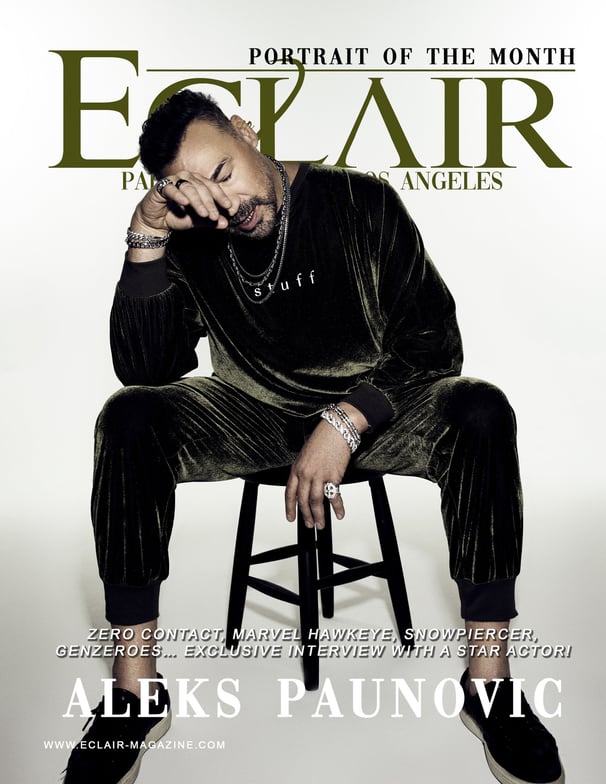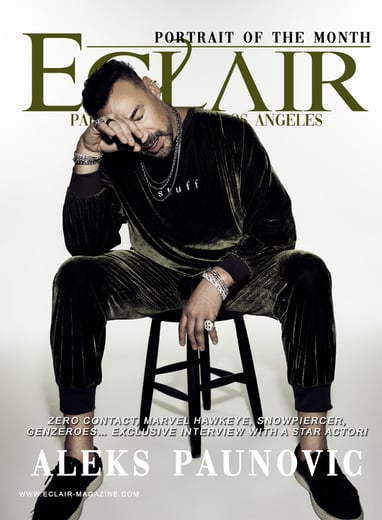 We have made quality our habit. It's not something that we just strive for – we live by this principle every day.