A Journey of Passion and Success
By
Guillaume Jean Lefebvre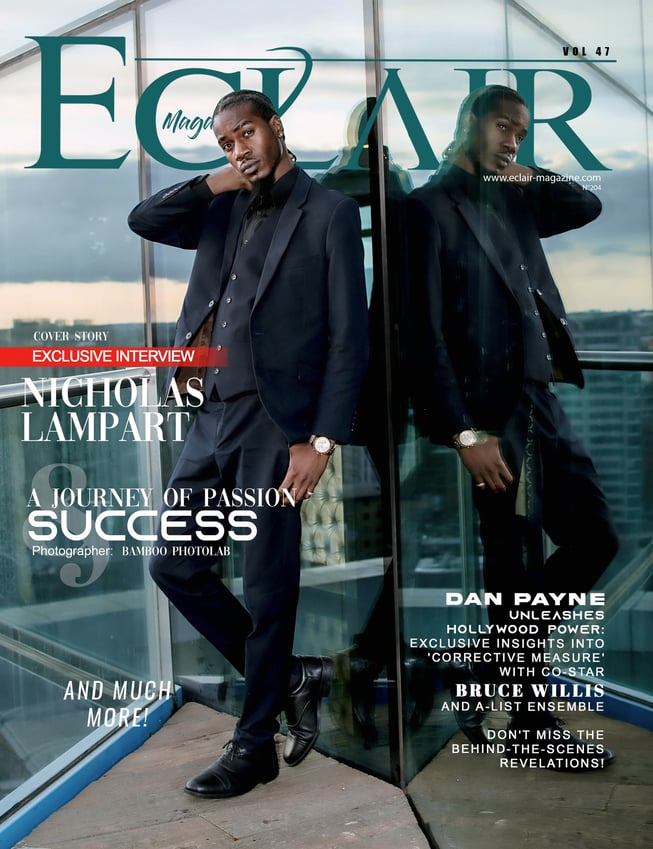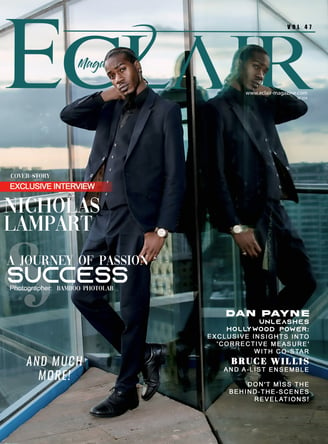 Nicholas Lampart, whose name originates from the Greek term meaning "victory of the people," has indeed achieved significant triumphs throughout his life. Born in the vibrant city of Kingston, Jamaica, Nicholas spent his early years in the charming town of May Pen, Clarendon. However, destiny had other plans for him, guiding him to North London, specifically Tottenham, where he embarked on an extraordinary journey.

Nicholas's childhood was shaped by a profound love for sports, with football capturing his heart as his ultimate dream was to play professionally for Manchester United. Simultaneously, his father's involvement in the clothing and accessories industry ignited a passion for fashion within him. These formative years also bore witness to a life-altering event as his mother's departure from Jamaica paved the way for new opportunities in England. This period, though challenging, marked a turning point in his life.

His journey into the world of fashion was an unexpected but transformative experience. A friend's invitation to a fashion show ignited a newfound passion for the runway, inspiring Nicholas in ways he had never imagined. Despite his initial shyness, he found himself captivated by the world of fashion, realizing his potential as a model. Supported by friends who believed in him, Nicholas's passion grew stronger with each step he took.

Nicholas's career began with exciting and enjoyable ventures, such as participating in a music video. These early experiences not only allowed him to showcase his natural talents but also helped him shed his shyness, revealing the confident individual he would become. Each experience was a learning opportunity, and Nicholas embraced the joy of pursuing a career that felt more like a passion than a job.

Education played a significant role in his life as well. Nicholas attended school and college in Tottenham, where his love for sports led him to study BTEC Level 3 in Sport. His dedication and hard work paid off, earning him a Distinction Merit.

The turning point in Nicholas's professional career was marked by his participation in several fashion shows. The positive feedback and the sheer exhilaration of being on the runway, coupled with the opportunity to network with remarkable individuals, solidified his love for the fashion world.

Nicholas Lampart approaches his work with dedication, passion, and consistency. His unwavering commitment to his dreams, coupled with his boundless enthusiasm, drives him to excel in everything he does. Achieving recognition by being featured in Vogue Runway for Martine Rose SS23 and Martine Rose SS24 is a testament to his dedication and talent.

Balancing a thriving professional life with personal pursuits is no easy feat. Nicholas understands the importance of maintaining a healthy work-life balance. While he works diligently, he also values relaxation and cherishes moments of fun. Life, after all, is meant to be lived to the fullest.

As he looks to the future, Nicholas Lampart envisions himself as an established runway model, gracing shows across the globe and earning features in prestigious international magazines. His ambition knows no bounds.

In the eyes of others, Nicholas Lampart aspires to be perceived as a genuine, fun-loving individual who extends a helping hand to those in need. He radiates positive energy and embodies kindness, qualities that make him an extraordinary individual both on and off the runway. Nicholas Lampart is a name destined for greatness in the world of fashion and beyond.
1. What is your full name and its origin?

My name is Nicholas Lampart. The name Nicholas is of Greek origin, meaning "victory of the people." Due to the renown of Saint Nicholas, the name is popular all over the world.

2. Where were you born and in which city did you grow up?

I was born in Kingston, Jamaica. I am from a small place in Clarendon called May Pen. I spent the first 9 years of my childhood in Jamaica until I came to the UK with my little sister in March 2002. The first place I lived in the UK was North London, Tottenham.

3. What were the influences or defining events of your childhood?

From a young age, I have always loved sports, especially football. That was my first dream—to be a professional footballer and play for Manchester United. I have always loved clothes from a young age due to my father being someone who sold clothes and accessories. So, I have always been around fashion. The defining events of my childhood were definitely my mother leaving Jamaica and getting the opportunity to come to England. It was a difficult time for me as a child due to being a mummy's boy. That was a difficult period being without my mother for over a year or so. Her setting herself up to be able to send for my sister and me to come to the UK was definitely life-changing.

4. How did you develop your passions and interests?

I was invited to a fashion show by a friend, and during the show, I started developing a passion for the runway. I was inspired. Being someone who grew up quite shy, it was a very different feeling, but I sat there while enjoying the show thinking to myself, "I can do that. I would love to do that." Also, I have two friends who have pushed me to believe in myself and get myself out there. I feel the passion developed more on my journey as I started falling in love with what I was doing.

5. What were your first jobs or early professional experiences?

My first jobs were really fun. My first specific job was a music video. It felt good actually doing something that I have natural gifts for. Also, being someone who has grown from being shy to being someone who is now very confident, I felt like it suited me. I have learned so much from my first experiences. I feel it has definitely made me a better model. It has been so much fun learning more as I do a job that I don't really class as "work" because I enjoy what I do.


Photographer : Bamboo PhotoLab - @bamboophotolab
Model: Nicholas Lampart - @nicholaslampart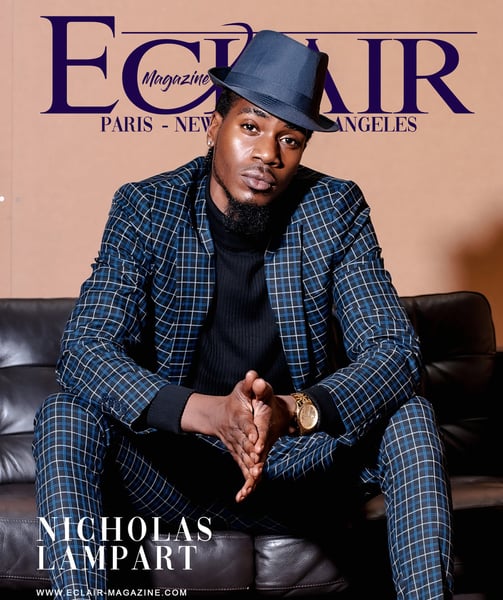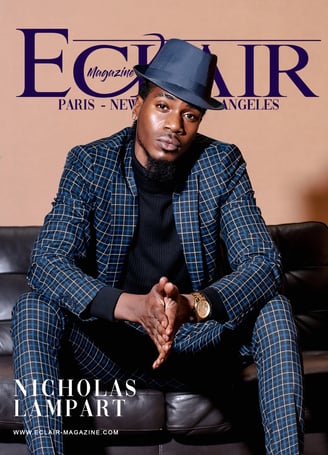 6. What was your academic background and higher education?

I went to school and college in Tottenham. I studied sports from school all the way to college where I was studying BTEC Level 3 In Sport. I left college with a Distinction Merit. I have always been someone who loves sports.

7. What were the key moments of your professional career?

I think the key moment of my professional career was doing my first few fashion shows. I think the belief I got from the reviews of people from the shows, the feeling I got being on the runway, and how much I enjoyed myself networking and meeting so many amazing people. It really made me fall in love.

8. How would you describe your approach to your work?

Dedicated. Passionate. Consistent. I feel those three words describe my approach. I am so dedicated to what I am doing. I have big dreams, which has made me so passionate about making them a reality. Consistent because that is how I have tried to be, always trying to stay consistent and getting better at what I do.

9. What professional accomplishments are you most proud of?

I feel the accomplishments that I am most proud of are being featured in Vogue Runway for Martine Rose SS23 and Martine Rose SS24. It really was dreams to reality working with Martine Rose. She is an amazing person with a lovely team of people around her. I really felt like this is where I'm supposed to be and this is what I'm supposed to be doing.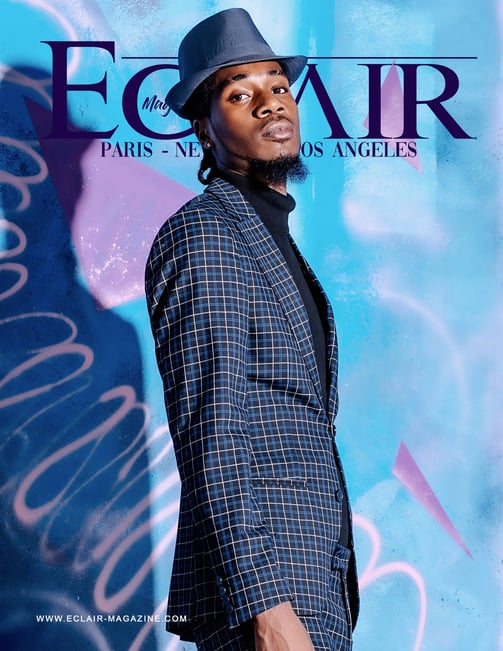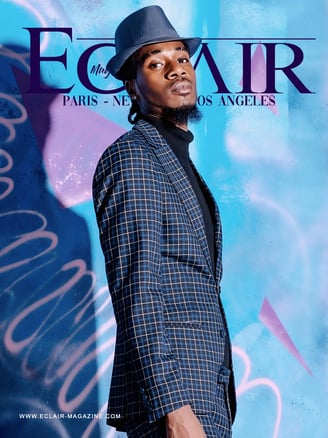 10. How did you balance your professional and personal life?

It is not easy, especially being someone who works a lot. I try to balance working with making sure I have times where I chill out and rest. But I also like to have fun, so it is important to have that balance because life is short.

11. What are your future projects or goals?

My goals are to become an established runway model, doing shows all over the world, and to be featured in some of the biggest magazines around the world.

12. How do you want to be perceived?

I would like to be perceived as a genuine person who loves to have fun and likes to help people. Someone who has good energy and who is kind to others.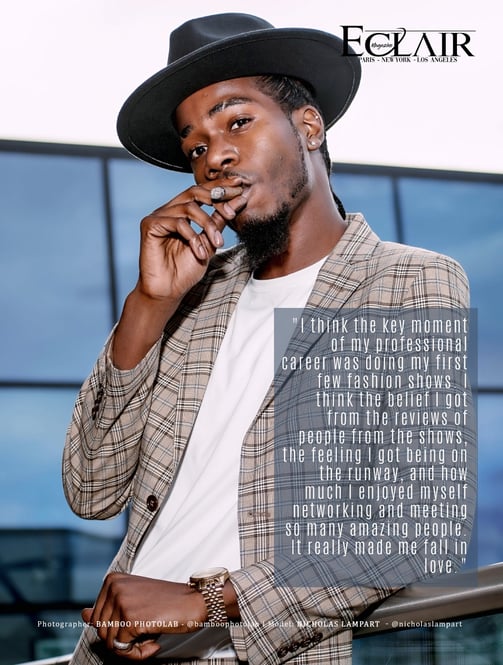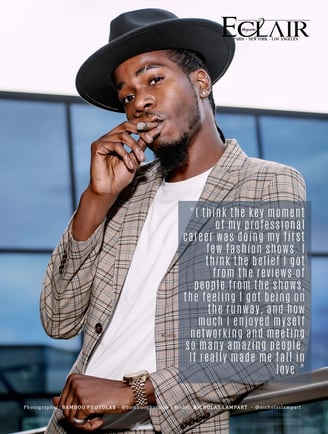 We have made quality our habit. It's not something that we just strive for – we live by this principle every day.